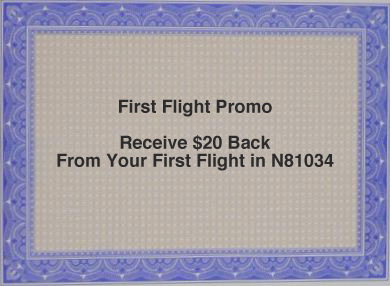 I am confident that you will enjoy flying N81034.
You'll find her peppy engine to be surprisingly spry for an Archer.
The panel-mounted IFR-capable GPS with COM is simple to use for direct-to navigation.
Flight plans are easy to enter after a few moments with the manual.
I'm sure once you fly N81034 you'll want to come back. Receive $20 back from your first flight to find you'll agree.

---
Details
Fly N81034 for one hour (Hobbs) or more after November 20, 2008.
E-mail tdebber at alum.mit.edu with the date of your first flight over one hour (Hobbs) after November 20, 2008. Include your mailing address.
Within two weeks, receive a check for $20.
Offer subject to change or termination at owner's discretion.
Limit one first-flight rebate per member. Offer available only to West Valley Flying Club members.

Contact Matt Debski at tdebber at alum.mit.edu